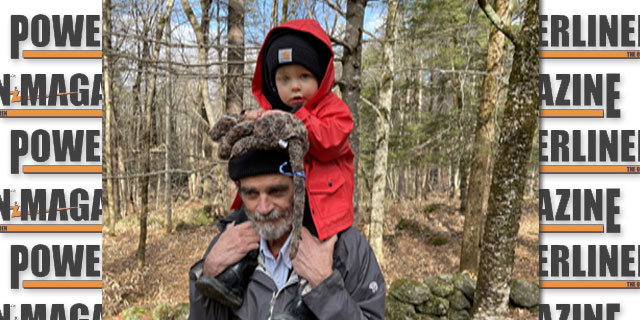 Powerlineman Profile: Dick Weaver
Tell us about yourself, can you briefly walk us through your story – how you started and how you got to where you are today.
I am originally from Alabama but have lived primarily in western NC since about 1978. Attending Warren Wilson College (Swannanoa, N.C.) in 1975 at the age of 18 was how I became exposed to linework. The college owned its' 2400/4160 distribution system. All students worked 15 hours a week for our room and board. All new students had to sign up for a work crew based on whatever slots were open. My intent was to get on the carpentry crew but the signup sheet said "Carpentry and Painting". I figured the new guy would get the paintbrush. The electric crew had openings, so I signed up.
We had a retired VEPCO EE as our supervisor and we did anything and everything electric. Our hooks and belts were military surplus, used. My first belt was all leather, single thickness. The safety was all leather too. I dropped out after three semesters and got a job as a groundman for a local distribution contractor.
On my first day on the job with an overhead crew, the line truck operator pulled a small revolver from his back pocket and laid it on the seat beside him. He saw my puzzled look and said, "I had a little trouble with one of my uncles over the weekend." Anyway, I stayed and began learning a little. I soon learned that working for a living was harder than going to school so I went back to WWC and got my degree and more line experience.
The first summer of college I worked for Huntsville Utilities dragging brush and feeding a chipper. This was where I got my first experience in a bucket. (See: Weaver, Dick. First Time in a Bucket: Sine Waves/powerlinemanmag.com/online articles. 3, March 2023).
I used to buy the Atlanta Sunday paper looking for jobs. There was a position in Antarctica listed, so I ended up going there for the first time in October 1981 returning in November 1982.
I took a lineman job with a small distribution contractor near Charlotte, N.C. working on the road. He got small municipal and co-op contracts. I had to pay all expenses except for one-half of my motel bill. After a while, I decided that Antarctica was a better gig; it paid way better and covered all expenses. Back to McMurdo Station for another year, Oct. 84 to Oct. 85.
Then two semesters at N.C. State thinking I could be an engineer and build power lines. School wasn't any more to my liking than it had ever been so I returned to the mountains and back to the distribution contractor. I worked on different crews there, sometimes on a co-op system , sometimes on the investor owned utility.
Has it been a smooth road? If not, what were some of the struggles along the way? Any advice for other men, particularly young men who are just starting their journey?
There were some tough times, especially early on as a groundman. Those were the days when you would get cussed out , yelled at, given the worst job of the day. We did a lot of off-road jobs by hand. In 1978 not all overhead crews had a bucket. If the weather was bad, we got 2 hours show-up time. My first winter, I worked about two months before I got a 40-hr. week. My first raise was from $4.25/hr. To $4.50/hr. I remember thinking that if I could get to $5.00/hour, I would have it made.
I knew that being dependable and working hard would pay off and it did. When layoffs came, they let me stay. My parents taught me that. That would be my advice, show up early, leave enough time so that if you have a flat, you can still make it in on time. Study anything and everything you can find. I bought the Lineman's and Cablemans Handbook and studied it. Spec books are good sources of information too. Young men tend to be impatient, trying to make lineman (I was too ). Don't quit just because you think the company is giving you a dirty deal. Give it a couple of months to see what rolls around. Talk to the older guys, see what they see.
We would love to learn more about your work. What do you do, what do you specialize in, what are you known for, etc. What are you most proud of, either work wise or in life?
The first half of my career was, mostly, overhead distribution. Later, our company was asked to do small substation jobs. This was my introduction to the transmission system in our area. When an opening came up on the local transmission line maintenance crew, I applied. I was 41 years old at the time. The difference between a contractor and utility employee was tremendous, I felt like more of an employee than a tool.
As time went on, they gave me more and more responsibility. I became the Senior Lineman. This meant a little more money and a lot more responsibility. The Senior led the day-to-day work and coordinated with the other work groups and the ECC.
Eventually I was doing the planning and scheduling for the crew in addition to running the job. Talking to landowners was one part of it and not always an easy task. We work in the mountains, so a bulldozer was often needed to get a truck to the structure. That resulted in having to go behind the crew and restore the land, install gates, maybe put fences back, etc.
The company created a planner/scheduler position for transmission crews which was good, depending on the person holding the job. After the latest corporate "merger" we were informed that after December 31, 2016, retiree health insurance assistance would go away. My wife and I decided that I should retire and take the health insurance while we could still get it.
My next work venture was with a consulting company out of Nashville, doing transmission construction oversight. It was a good job but I ended up working a lot of 50 and 60 hour weeks. The supervisor of the crew I had retired from was able to have me re-hired as a contract employee as his planner/scheduler. That was a great gig because I was back in my old building right along with the crew. My manager told me to just keep "Dave" happy and that was the job. I worked my schedule for the most part, had a company hardhat and badge. So, for three years I worked about 20 to 25 hours a week. I dealt with the property owners, the bulldozer man, the seed and straw man, the ECC, other crews, set up the jobs, found the material and other resources, so on and so on.
At the end of April 2019, the contract ended and I was headed to New Hampshire for the birth of my first grandson. My job was made into a full-time company position, and I haven't had a regular job since.
We spend a lot of time in N.H. helping my son on his land. I do a lot of handyman work in N.C. at our church. If it needs a ladder, they call me.
If I could go back to my planner/scheduler job I would but it has expanded in territory and now requires a full time person.
What do you feel are the biggest obstacles for linemen today, in the industry or generally?
Today's linemen face a much more scrutinized work environment, I think. Everyone wants zero accidents, and the culture has changed a lot. Some of that is good, of course, but it makes it harder to go out in the field and work. This has also led to some people being made linemen that might not be in the right job. There have been major improvements to equipment and tools, as well as so much more of these materials available for every type of job.
The days of one bucket and one digger seem to be gone, at least at the larger utilities. Although there are some smaller organizations that don't have the resources and still operate more like we used to.
What is an interesting experience, encounter or the craziest thing that has happened to you while working with organizations and/or members of the line profession?
Every place that I've been to has been interesting. I still enjoy riding down a road looking at a pole or structure that I helped build. Antarctica was probably the most interesting place for me.
**Dick has been a regular contributor to the Sine Waves Online Short Story series. He has shared some great stories from throughout his career. Check them out at our magazine website (powerlinemanmag.com). His stories are entertaining and very relatable.
Who are some of the linemen that you know and admire? Is there anyone that has influenced you?
There was not a single mentor for me, I worked in a lot of places, with a lot of people, each of them taught me something. Even if it was how not to treat people. One of the more recent was my Senior Lineman on the transmission crew. He taught me rigging skills and hot stick work. The greatest thing that he showed me was how to talk to customers/property owners. A whole lot of ill will can be overcome if you just really listen to people. Then try to explain the how's and why's.
The fellows who took last year's overall journeyman lineman award (2021) did it without any support from Duke. They are personal friends of mine who worked for me at one time. They won it on their own dime and time.
Contact Info:This email address is being protected from spambots. You need JavaScript enabled to view it.