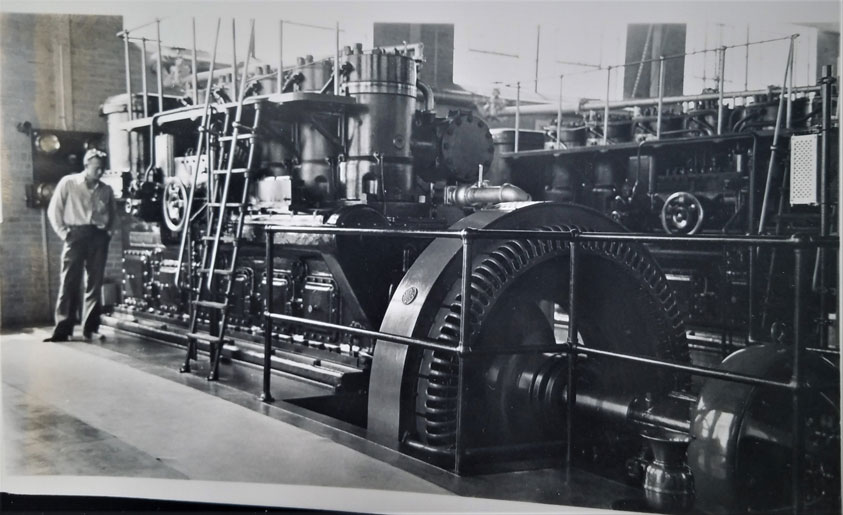 Diesel 2: A worker appears to be listening to the hum of Unit #One. A 450hp Fairbanks Morse Diesel Engine. Note the spittoon in the lower right.
---
When I first hired on to the City of Longmont Electric Department as a Groundman in 1972 the Line crews and their equipment were working out of the old "Diesel Plant" located right alongside the railroad tracks, next the grain elevators and packing plant on the south end of town. It was a solid brick building with lots of widows. Most of the floor plan was dedicated to one big room with a concrete floor and on the ceiling was a gantry style, five-ton overhead crane that could traverse the whole space. The room was large enough for us to park our two digger trucks and two bucket trucks and the service wagon inside. We also had a metal shop off to the side, a remnant from when the Diesels were operating. Since those days, while visiting other towns in my part of the world (Front Range Colorado) and even other parts of the country, I have noticed quite a few other old Diesel plants (now repurposed or abandoned) that look very similar to the one we have here in town. They all have a very similar plan and even the same kind of bricks sometimes. Once you know what a diesel plant looks like, they are easy to spot. They are usually located near to the rail yards (to facilitate delivery of diesel fuel by train car) in the old 1930s industrial part of a town.
For those that are not familiar with what a Diesel Plant is, it is an electric generating station powered by Diesel engines. From the beginning, the combination of a diesel engine spinning an electric generator has been a good idea and was developed for train locomotives in the mid-1920s. The reason for using diesel to power an electric motor in locomotives is to replace the use of a conventional clutch and transmission to control power output because a conventional clutch/transmission would be too massive to fit inside the eight foot six inch wide locomotive. Most all trains you see today (most people think of them as just diesels) are diesel over electric locomotives. In modern times, diesel generators are also used as backup for things like hospitals and other critical installations that cannot do without power and mobile units for events like outdoor concerts.
Apparently, during the 1930's 40's and 50's diesel fuel was cheap enough and, the price of power from other sources high enough, that is was feasible for towns to build and operate their own generating stations. Looking in the newspaper archives I found a headline in the May 27th 1931 edition of our local paper the "Times Call" proudly proclaiming "CITY NOW SUPPLYING ALL OF ELECTRICITY NEEDED HERE" and that we no longer need to use Public Service "stand by power". The city had previously installed a Hydroelectric plant in 1911 that could no longer keep up with demand... By the way, that Hydro Plant is still spinning!
The original diesel plant started with three engines in 1931, Unit #1, at 450hp, and Units #2 and #3 at 640hp. Each. In 1936 Unit #4 was added with another 1400hp, then, in 1941 the building was expanded to make room for Unit #5 at 1700hp. The last one, Unit #6 came online in 1948 at 1600hp bringing the total output to 6480hp generating 3887kw. This in addition to the existing 1240hp 800kw Hydro Plant. Talk about a Home-Grown Electric Department, Longmont is one. We had some forward thinking "City Fathers" back then.
The information and pictures that allowed me to put this all together includes a 1951 spread sheet that my friend and pole buddy Dave Sherer inherited from his Dad (and my Foreman and personal hero) Slim Sherer who absconded with it during the decommissioning of the plant in the mid-sixties. That spreadsheet put together all of the pieces of the puzzle I have been wondering about for the past 40 years.. Thank you for the time capsule Slim!! The last of the engines were sold in 1967. Legend has it that one of them is still powering a tugboat out in California. By the way, the reason that all the Diesel Plants look so much alike is because they were built under contract for the Fairbanks Morse company. The Powerhouse came complete and fired up, right down to the spittoons…
Today the building houses one of my favorite local business's "Cheese Importers" with a huge selection of cheeses and a French Bistro.