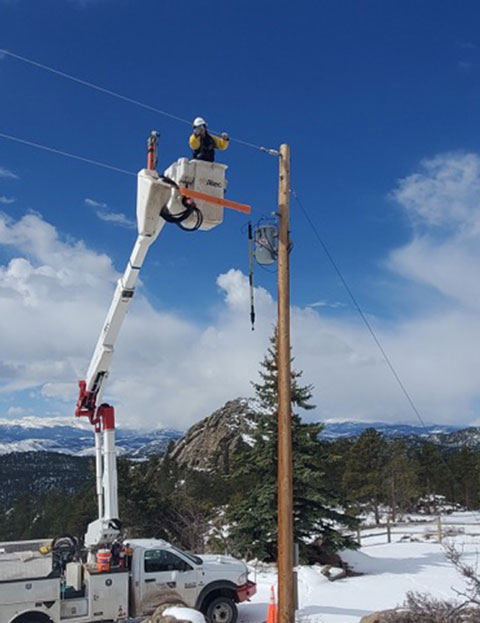 Kyle Norden, please share your story with us. Why/how did you get into linework?
I'm a Journeyman Lineman for Sturgeon Electric. I got into the trade when I got out of the Army in 2015 I used my GI bill to pay for line school. I found out about the trade through some buddies I had doing it. They told me they thought it would be a good fit for me coming out of the military and so I decided to give it a shot. It's turned out to be hands down one of the best decisions I've ever made in my life.
After line school I worked for a couple nonunion outfits. I kept applying for apprenticeships everywhere I could (which took time). I wound up getting an apprenticeship at Poudre Valley REA in Fort Collins Colorado where I spent my four year apprenticeship until I topped out in February of this year and a couple months later signed the books and went to work out of Local 111. Making the switch from the utility to contracting has been a great decision. You have so many opportunities as a contractor to go different places and work on different systems and meet more lineman and gain more knowledge and experience.
Great, so let's dig a little deeper into the story – has it been an easy path overall and if not, what were the challenges you've had to overcome?
If your road to becoming a Journeyman lineman is smooth then you probably weren't pushed enough. Everybody's struggles at some point as an a apprentice that's just how it is it's how you deal with those challenges that will determine what kind of lineman your going to be are you going to be the kind of lineman that gets pissed off and frustrated every time some unexpected thing pops up or a job doesn't quite work out the way you wanted or lose your cool when you have to adjust your plan on the fly in the hot zone when somethings not working. I feel like that should apply to your whole career. You should always be learning and taking new things away. No one is ever too good to learn and if you think you know everything there is to know you should probably just head for the house. As an apprentice or ground man just starting out though make sure you're always at the right place at the right time with your tools ready to work attitude and effort go a long way in this trade. JLs, Foreman and GFs will take notice of that. It won't be easy and it shouldn't be. It's going to take a lot of hard work and dedication if this is what you want to do.
Tell us more about what makes being a lineman special.
As far as specialization goes I'm a distribution hand. The thing I'm most proud of is how underrated our industry is and I like it that way when people are at home during blizzards hurricanes natural disasters etc lineman just get up and go to work like it's another day at the office it's just a bunch of good men and women getting done what needs to be done. I think one thing that sets me apart from others is my work ethic just because I'm a JL doesn't mean I'm too good to pick up a shovel or get ice for my own cooler to get my own material I take pride in working hard and it's always managed to get me to the next step in life.
What do you feel are the biggest barriers today to lineman, in the industry or generally?
I feel like one of the biggest barriers in this trade is lack of communication. Different age groups communicate differently and on a crew/job site you might have someone from the age of 62 all the way down to 18 and everybody has their own way of communicating. And when there's a lack of communication it becomes a safety hazard and a problem.
Any advice for younger linemen trying to get into the trade?
As far as pricing line schools aren't cheap you can always get a CDL and sign the books as a groundman. Tools aren't cheap, don't lose them and keep your hands out of other people's tool bags.