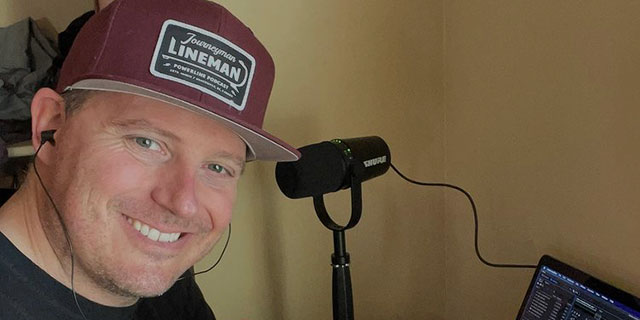 About your company, can you briefly walk us through your story – how you started and how you got to where you are today. You can include as little or as much detail as you would like.
How I got to where I am:
I am a second-generation Lineman. My father is a lineman, and my mother is amazing. Together they started and built their own power line company from scratch in a small community called Williams Lake in Central British Columbia, Canada. Dad was the technical and mom was the logistics as well as held the house together.
I spent my childhood doing what any kid in a small northern Canadian town would do, played tons of ice hockey in the winter and rode dirt bikes all summer. I used to spend every day after school as a kid at my dad's shop. When I was little, I would just play in a nearby creek but as I got older, I would do odd jobs like sorting fuses and gippy's, cleaning buckets and diggers, painting or whatever else I could do to contribute.
Running a small power line business through the 80's and 90's wasn't easy. My folks were resilient and on more than one occasion I witnessed them remortgage their home just to make payroll. Dad would find the work, bid the work, hire the workers, often run the job and so much more. While mom would take care of payroll, manage the books, answer the calls and so on, all while maintaining a family and home. They would grind it out day after day just to get by and raise their family.
We always had linemen living with us too. We would put them up with a room and meals. It was different back then. This is where I was first exposed to a lineman's ability to tell stories. Man did they love to tell stories. They would be up until late in the evening most nights sharing stories of jobs they've done, places they've been and people they know.
I used to stay up as late as I could and listen to these stories. I would think wow, these guys have been everywhere and done so many cool things. It fascinated me how these guys could work such a long hard day and then come home and stay up so late telling stories. They loved what they did for a living and it seemed that it wasn't just a job but more a lifestyle.
In high school I started going out with the crews every now and then. I wasn't allowed to do much but keep the trucks stocked and whatever grunt stuff they needed done. It was my first glimpse of how hard these guys worked. I had seen it in pieces as a little guy, but this was my initial experience being part of a crew and working in a trade environment.
At this point, linework still wasn't what I wanted to do for a living, but it was teaching me a lot about how it takes hard work for the things in life.
I graduated high school and traveled for 6 months. Then it was time to get serious about what direction I wanted to take my life as far as a career goes. I still wasn't sure about being a lineman but the opportunity for an apprenticeship with my dad's company came up. I remember talking to a couple of the linemen that worked for my old man and he said to me, "It's 3.5 years. You're only 20. Why don't you just do it, get your ticket and you'll have plenty of time still to do something else if you want to switch it up later." I thought about it, then enrolled the next day and since then have never looked back.
Within five minutes of my first day the foreman said, "come on kid let's see if your scared of heights." We went to the pole yard where we had a pole set up for practicing pole top rescues. He threw his hooks on the ground in front of me and said, "Well, what are you wait'n for? Get up there." Not tooting my own horn but I was a natural when it came to climbing and I think he was surprised.
That was almost 19 years ago. Since then, I've been able to check off so many of the boxes on the bucket list of things I'd like to do in line work.
This amazing job has taken me all over North America. I've built transmission lines in northern Canada, restored power to people affected by hurricanes on the East Coast of the United States. I received my Barehand ticket and worked as a Barehand Lineman on one of the largest re-conductor projects in the US located in the Rio Grande Valley of South Texas. I've used a helicopter to hang under, sit on the side of, entered and exited out of onto structures, and pretty much everything else that you can use one for. All these jobs were fantastic, from the distribution poles on the streets of Vancouver to riding spacer carts on energized 500kV lines but the best part of it all is the people I've met along the way.
I spent 15 years as a lineman in the field and have now been in the office on the management side for 5 years. The one thing that continues to amaze me in this trade is the people and their stories.
How Powerline Podcast was created:
We, in the powerline industry, have amazing stories that have never been captured. There are very few books written about what we do every day and the lifestyle that we live. I wanted to begin to capture these stories in a modern way through podcasting. This is how Powerline Podcast was created.
Not only do I want to capture these fantastic stories but I want to help spread the knowledge and experiences of today's line workers so we can better the future workers in this industry.
Has it been a smooth road? If not, what were some of the struggles along the way? Any advice for other men, particularly young men who are just starting their journey?
Linework is not a smooth journey. It's an incredibly physical job and demanding mentally as well. There are not many jobs with the daily risk level as high as it is in the powerline industry. We work with high voltage electricity, heavy equipment, inclement weather, long hours/shifts, heights, and traffic just to name a few. You must keep your head in the game and focused daily.
My advice for others would be to stay humble. Especially if you are a younger person just entering the trade. Respect the experience of the people that have come before you and understand that there are many ways to do things. Build relationships because it's a small trade and your reputation is everything. Say yes to as much as possible especially while you're younger. Gain as much experience as you can and try as many different aspects of the trade as you can. Try not to pigeon- hole yourself into one thing off the start. One last piece of advice would be to do as much as you can to learn and better yourself on your own time. Learn as much about leadership as you can.
When I decided to start a podcast, I had no idea that it was going to be as difficult as it was. I had to teach myself how to do everything from build a website, to what kind of equipment I would need and how to edit, post and market it. All of this was done on my own time after I was finished my day job as a VP with Allteck Line Contractors. It's been challenging but very rewarding. I've met so many fantastic people in this industry and I'm incredibly grateful to have the ability to share their stories in this way.
My advice for anyone that wants to or is thinking about starting a podcast is, go for it! I believe that everyone has a voice and has something to say. It's an amazing platform to reach people and I say give it a try.
We'd love to learn more about your work. What do you do, what do you specialize in, what are you known for, etc. What are you most proud of as a brand, organization or service provider? What sets you apart from others?
Powerline Podcast has only been around since the spring of this year. I've been talking about it for roughly two years now and finally just made it happen. I'm passionate about this trade and the people in it. I'm proud of my opportunity to capture and share these stories. This podcast is about line workers and for line workers. I want to do my part to preserve the past and positively impact the future of this industry. I guess that this love of storytelling comes from the long hours that I'd listen to my dad and other linemen talk around the dinner table as a kid. I grew to love this trade and I want to give something back to a trade that has given so much to me.
Another reason that I believe that everyone should try podcasting is that no one will quite do it the same as you. Everyone has a different take on things, and everyone has their own unique voice. I want to leave my mark on this industry by helping to record a piece of its past and do my part to ensure linemen do a safe job and get to return home to their families.
What do you feel are the biggest barriers today to linemen, in the industry or generally?
There are a lot of pressures put on linemen today. The demand for electric energy is increasing and showing no sign of slowing. With this increase in demand comes pressure. I believe that linemen are taking more and more unnecessary risks. A lot of the things that we are doing and methods that we are choosing to work are putting us in an elevated position of risk. In North
America especially we have every opportunity to do things safe. We have the best technology, PPE, tools, and procedures and yet we're still losing men. Safety starts with each of us as individuals. It's up to us to educate ourselves and make the right choices every day. Even if this means standing up to the powers that be and saying no.​
Who are five linemen that you know and admire? We'll check out their work and be incredibly grateful to you for bringing them to our attention.
First and foremost, the greatest lineman I've ever known is my father (Robin Lucas). He started from nothing and has risen to become a very influential leader in the powerline industry. He is the one that has instilled in me all the values that I speak of above. He started and ran his own contracting company for 25+ years before selling it to Quanta Services. He is now the President of a Quanta owned company and has led that company in the last 2 years to win two of the largest contracts in western Canada. Throughout his career he has been heavily involved in the apprenticeship program in British Columbia by being the chair of their board. For many years he has also been the President and major voice for the former Line Contractors Association of BC.
I owe all my understanding of the values of hard work, humility and leadership to him. No matter who you are. he always has time for you, and he treats everyone as an equal.
Second, is my very first foreman, David Fossa. I've had Dave on my podcast twice now. Dave is not only a journeyman lineman, but he is also a journeyman electrician. There literally isn't a part of the trade that he hasn't been a part of.
After learning all that he felt called to learn on the tools he went back to school and became an adult educator with a provincial instruction diploma. He now develops and instructs technical
training to line workers. I attribute my love of life-long learning to Dave, as this is his passion.
Third, is Adam Arsenault. Adam passed tragically this year. He was one of the most amazing linemen I've ever worked with. He was just one of those go to guys. You could always, no matter what, count on him to get the job done. He was a friend and father of 2 that loved both his family at home and the trade. Linework was his life and his passion. There are none better and I learned more from him then anyone will realize even in my short time with him.
Fourth, I have been fortunate enough to work with so many incredibly talented linemen. Some have gone on to be executives for line companies and some have chosen to remain on the tools as a lineman. Each one is exactly where they need to be and is doing good work in their respected positions. I'm extremely grateful for every moment I've had with each of them. They all had a hand in making me who I am today.
Contact Info:
Website: powerlinepodcast.com
Email: This email address is being protected from spambots. You need JavaScript enabled to view it.
Instagram: @powerlinepodcast and @ryanwlucas
Facebook: @powerlinepodcast
LinkedIn: Powerline Podcast
YouTube: Powerline Podcast by
Ryan Lucas (https://youtu.be/-8BW_8o9MbM )