How did you get started in Linework?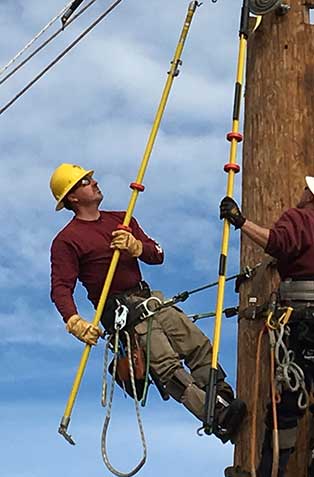 I grew up in northern CA and started my career with tree companies out of high school. A good friend of mine told me about being a lineman and the rewarding career it is. I took his advice and in 1998 was hired on with Union Power on a job in NV to drive the dynamite truck down the bouncy right away. This alone should show my eagerness to one day be a lineman. I was accepted in the CA/Nev JATC in 1999 and knew the sky was the limit from here on out.
I topped out in June 2002 and worked for many outside contractors in the western states. I am a dues paying lineman out of local 659 in OR and now a OSHA/ T&D trainer.
In my past career I have worked for UT power, Northwestern energy, PG&E, and PP&L. With all the experience gained from working with great lineman and industry professionals in our trade I always wanted to give back to help our trade be safer and more efficient.
What was the most challenging thing for you about becoming a Lineman?
The most challenging thing about me becoming a lineman was that I would always do the right thing, even when it was not the most popular. I live to this day with integrity and mentor others that doing what's right will earn you respect, even when the right thing is not always easy to do.
What do you enjoy most about being a Lineman?
What I enjoy most about being a lineman is the brotherhood and seeing the finished product of our work. Whether that's the powerline we just erected or the apprentice that you helped out and trained to become a benchmark lineman in our great trade.
What is the craziest thing that has happened while you've been working the line?
The craziest thing that has happened to me in the trade was, I was a 3rd step apprentice and working in downtown San Francisco. Our crew was doing a cut and kick where the new pole goes back in same hole. There were 3 different circuits on this pole with many services off arms and mid span both directions. When the operator leaned the pole to the road, the service was very close to the 600-volt DC trolley line.
I told operator to swing back to tighten it up and he did not listen. A trolley came down the road and hooked the services and boy was there a firework show. The pole almost got ripped from the claws of the digger and the whole street lit up. Nobody was hurt on that job and we all went away that day little shook up. To this day I train that we, all, have the authority to stop work when we see something unsafe. You have to speak up.
We have heard you are the innovative type, what innovations have you come up with in the past?
In the past, I have invented products that I did not follow through with and a couple of years later, I find them on the shelves. In 2010, I had the idea for a new style of stringing block to make our trade safer but I did not have the funds or know how, to get it developed.
After leaving a great company in Boise, Idaho, where I was training, and, also, selling Mountain Tree Service, a company that I owned for many years, I went all in.
I have now partnered with Condux international on two new tools that will be available to our trade, in the near future. A nonconductive stringing block with a 12 second install time. This block is going to greatly improve safety and efficiency in our trade.
What are you working on now?
Today I am working as a Safety Supervisor/trainer for Das-Co of Idaho. This allows me to stay home with my family and work on more products I have planned. I would like to say thank you for the support I have received from my wife Alison, my family, pole buddy's and industry professionals that have helped me to get my tools recognized and are now getting developed. I feel blessed to have worked side by side some of the most talented linemen in the industry and now I have a chance to give back. Work safe!
For questions about tool, contact Robert at This email address is being protected from spambots. You need JavaScript enabled to view it.