"HIGH TENSION"
The little known sequel to "SLIM" is on its way back
By Alan Drew
Senior Vice President of
Research and Development
Northwest Lineman College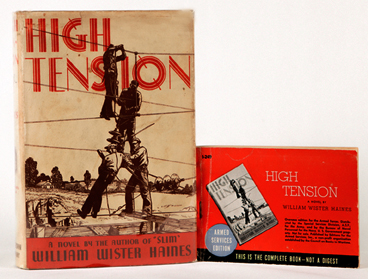 SLIM has been an icon for the legacy of the lineman profession for many years. It it is a rare instance that a veteran lineman is not familiar with both the book and the movie. William Wister Haines, who worked as a lineman in his younger days, is responsible for creating Slim as the trade's most legendary lineman who lives on today. In 1934, once SLIM became a best seller,Haines hung up his hooks and evolved into a very successful writer. Warner Brothers became interested in the story, as a movie and made an agreement with Haines for the rights to make a film. Haines wrote the screen play and provided technical guidance to the movie which made its debut in 1937. Both the book and the movie, which starred Henry Fonda, garnerned great reviews when released. Haines would go on to author several more books and magazine articles on line work, World War II and other themes.
What the majority of linemen are not aware of is that William Wister Haines authored another great lineman story titled HIGH TENSION in 1938.
Around the year 2000, Nothwest Lineman College contacted William Wister Haine's son Bill Jr. and his sister Laura Haines Belman, to obtain their permission to use some of the artwork from the book SLIM to put on shirts and ball caps. This became the starting point of a great relationship with Bill Jr. and Laura that I treasure. We lamented that with SLIM out of print and the movie "Slim" out of circulation for many years, the legend of "Slim the Lineman" needed a jump start. Understanding the potential popularity to the power industry, along with his commitment to preserving his father's legacy, Bill Jr.decided that it was time to start working on the republication of the book. After a considerable effort which provided Bill Jr. with valuable insight into the world of line work, SLIM was reintroduced in 2009. Powerlineman.com and it's hard copy magazine companion brought the book to the attention of America's linemen.
The reintroduction of SLIM far exceeded expectations. The book has found its way into readers hands in several ways, including giving copies to graduates of line schools or as a prize at lineman rodeos. In 2014, Pacific Gas & Electric and IBEW 1245 partnered together to recognize over 2,500 of their linemen with copies of the classic. I have personally had many Northwest Lineman College graduates and others in the trade tell me how much they enjoyed reading SLIM.
What the majority of linemen are not aware of is that William Wister Haines authored another great lineman book titled HIGH TENSION in 1938 and had 5 short stories about line work published in well known magazines. "High Tension" is a term that was commonly used in the early development of the power industry to refer to power lines operated at higher voltages. The book is based on Haines's experience as a lineman working on electrified railroads in the east. After a long and signficant effort Bill Haines Jr. has the book currently in the publishing stages.
William W. Haines Jr.
Approaching the age of 79, Bill Haines Jr. is retired and enjoying life with his wife in San Diego, California. Over the years, after reading as much as I could about William Wister Haines, I can see that Bill Jr, has many of the traits his father had: very professional, good with words, a complete gentleman and a warm easy to like personality.
Bill Jr. grew in Laguna Beach in sunny Southern California and attended the University of California at Berkeley. One of his fondest memories is when he took a year off school and worked on a tuna boat, pole fishing the mighty tuna along Baja California and Mexico. He would go on to have a very successful 40-year career as an industrial real estate broker in San Diego mostly with the firm CBRE.
Bill Jr. really enjoys seeing Slim used as an award by training organizations, power companies and IBEW locals as awards.
Bill Jr.is a very much a family man and has been married to his lovely wife Judy for 51 years. Their two sons Bradford Wister and Gregory Channing have blessed Judy and Bill Jr. with 3 grandsons and a granddaughter. Bill keeps himself in great shape and at age 65 took up the sport of triathlon and has competed in over 100 sprint and Olympic distance races, including 5 races in 2016. From the age of 14 to 72 he was an avid surfer and has surfed in California, Mexico, and Fiji.
For the past 20 years Bill Jr. has spent countless hours as a volunteer with I Love Clean San Diego, a group that provides environmental education in schools and leads major cleanups of San Diego's beaches and waterways.
Bill Haines Jr. was introduced to the world of the lineman in 2009 in conjunction with the first republishing of SLIM. His great personality and demeanor allowed him to immediately connect with linemen as he interacted with them while promoting SLIM. He has attended many linemen rodeos, congratulating winners and providing them with signed, personally dedicated copies of SLIM. Bill Jr. really enjoys seeing Slim used as an award by training organizations, power companies and IBEW locals. Bill Jr. is now well known in the industry which will make the introduction of "High Tension" much easier.

Bill recalls one sad item that came with the enjoyment of republishing of Slim. Sometime around 1985, Bill and his sister Laura were cleaning out their parents' house and came across their father's old rotting lineman belt and climbers. Not thinking much about them at the time, they were discarded along with other trash. Bill laments "we all have plays we would like to call back."
Railroad Electrification
In the early 1900s, the air pollution caused by coal powered steam locomotives became a concern for larger cities. When passenger trains went through longer tunnels, the smoke from the engine caused considerable breathing problems for passengers and train crews. Electric traction was determined to be more powerful and efficient than steam power. In the 1890s many of the larger cities had successfully installed interurban transportation systems utilizing electric traction.
With experience gained from the fundamental electric traction systems, railroad companies moved forward with the electrification of their railroads. The majority of the railroad electrification took place in the east. The Pennsylvania Railroad Electrification and the New York, New Haven, and Hartford Railroad electrification were two of the major electrification projects. The longest stretch of main line electrification was the Chicago, Milwaukee, St. Paul and Pacific Railroad who electrified their railroad from Chicago, Illinois to Seattle, Washington.
These linemen became a special breed as they regularly worked on both AC and DC systems that were uniquely constructed.
The electrification of railroads and trolleys required the installation and maintenance of specially designed overhead systems known as "catenaries". The fundamental purpose of the catenary systems was to support a variety of facilities including power conductors, messenger wires, guy wires, contact conductors and signal conductors. The contact conductor allowed the electric locomotive to obtain power by maintaining continuous contact with the conductor when the train was in service. This was accomplished with various devices, the most common being known as a pantograph which was raised from the top of the locomotive.
The work on these systems was unique in the fact that most of the work would be done from the tracks, which required specially designed cars known as "wire trains, tower cars, tower wagons", etc. Working from the tracks on existing systems obviously created the hazard of potential train wrecks and to that end track clearance procedures were established to improve safety.
The support and tensioning of the messenger and contact conductor were critical to the safe, efficient operation of the locomotive. This was especially critical and challenging when the tracks were installed on curves. As railroad electrification went forward, the congestion of catenaries on multitrack railroads created hazards for the linemen when sectionalizing and working on parts of the systems. To install and maintain these systems required heads up linemen with special skills who were not afraid to take risks.
The Pennsylvania Railroad electrification project which began in the early 1900s was one of the largest electrification projects in history. In 1928 the PRR announced that it would expand its electrification to include main lines to Philadelphia, Baltimore and Washington DC. This major project immediately attracted linemen from all over the country, including former transmission lineman William Wister Haines, who would then go on to author HIGH TENSION. The project was completed in 1938 and the PPR system became one of the great arteries of commerce and travel between several of the major population centers of country including New York, Philadelphia, Washington DC, Newark, Wilmington, and Baltimore.
Various types of electric traction rail systems which use overhead catenary are in service all across the United States. Like other elements of electric power systems, they have changed over time but still need linemen to install and maintain them. Methods, tools, and equipment have improved, but, as it was in the beginning, catenary work is a unique and challenging trade where safety receives the highest priority. Linemen who work on these systems are frequently referred to as traction linemen or catenary linemen.

"HIGH TENSION"
As was previously mentioned, the experiences William Wister Haines gained when working as a catenary lineman on the Pennsylvania Railroad electrification project were the basis for the book "High Tension". One of the characters of the book is the general foreman called the "Duke". Haines created the "Duke" from Jack Lemley who was the foreman on a crew on which Haines worked. Haines dedicated the book to Jack Lemley and it is so noted in the front of the book.
HIGH TENSION was first published as a six part serial in the Saturday Evening Post, commencing with the April 3, 1938 issue. Simultaneously the book was published in 1938 by Little Brown, in a hardbound version. The smaller paperback edition by Pocket Books came out in 1948. Like SLIM, copies of original HIGH TENSION are collectable, hard to find and expensive.
"High Tension is written in the jargon of the hot wire, and its conversation sputters and crackles through to heighten the tension of a novel about a little known group of danger lovers – the linemen."
Original Dust Cover-1938
The book begins with the sentence: "The day the Duke brought us the news we was so happy we didn't even get drunk." This news meant that a project had been funded to electrify 156 miles of railroad track which would require the installation of six thousand ninety-foot steel poles, twelve hundred miles of aluminum conductor, six miles of messenger cable, twelve hundred miles of signal wire, twelve hundred miles of contact wire, five hundred thousand insulators, fifteen substations and twenty-six major track interlocking systems- Yes the linemen would have plenty of work!
The story is a great mix of on the job work and off the job interaction between linemen that would have been typical of the boomer linemen of that day. It is written from the perspective of a character named "Jig" who was the "line gang" crew foreman. The reader will learn many of the slang terms that were used in catenary work during that period. The story includes a lifesaving escapade from a train wreck which is very exciting and interesting. A touch of romance which is typical for boomer linemen adds some spice to the story. What evolves is an exciting story of linemen meeting the challenges of working on a major railroad electrification project that will allow the reader to see how this major enhancement in railroading was accomplished.
It is important to note that "High Tension "and "Slim" were published and widely distributed in special pocket sized editions exclusively for members of the Armed Forces during World War Two. William Wister Haines joined the Army Air Force in 1942 and served three years in Britain as a lieutenant colonel on the staff of the Strategic Air Command. I am sure he did everything he could to see that his books were readily available so that they could be enjoyed by our Armed Forces wherever they were during World War Two.

Bringing High Tension Back
Bill Jr. indicates the book will be a hardbound version with a lineman appealing dustjacket with approximately 300 pages of text and graphics.
Bill Haines Jr. found it was most rewarding to bring SLIM back into publication. He has made many new friends by traveling to linemen rodeos, connecting with linemen, IBEW chapters and various trade related organizations. All the of this has led to him developing a greater understanding of the linemen profession. The efforts made by Bill Haines Jr. have been widely appreciated across the country as many of the younger linemen now are familiar with the legend of "Slim the Lineman".
With the success of the reintroduction of SLIM under his belt, Haines is now close to the reintroduction of HIGH TENSION in a high level publication which will feature the awesome artwork of the renowned artist Robert Lawson and includes the graphics from the Saturday Evening Post serial by Warren Baumgartner. Bill Jr. indicates the book will be a hardbound version with a lineman appealing dust jacket with approximately 300 pages of text and graphics.
As a bonus, the book will include five short stories about line work that his father authored that appeared in 2 prestigious magazines, The Atlantic Monthly and The Saturday Evening Post. Each one is has its own unique characters and story. They are all exciting and make great reads. The unique associated artwork from the magazines will be included. Bill Haines indicates that the book should be available for purchase around September of 2016. Interested readers can reserve copies by going to the SLIM Website (www.slimthelineman.com) and emailing Bill Jr.
HIGH TENSION will make a great companion book to the previously republished SLIM. I would strongly recommend that linemen and anyone interested in line work and it's colorful history, that has not read SLIM, to purchase both books as a pair. HIGH TENSION will make a great gift for anyone who has read SLIM and will be equally appropriate as a recognition award. HIGH TENSION and SLIM will be a great addition to any individual's home library and to power industry company libraries. I sincerely hope this article reaches many of the traction linemen that work with today's overhead catenary systems as they should really appreciate the focus on their unique part of line work.

Conclusion
I wish to pass on my personal congratulations to Bill Haines Jr. for his commitment and efforts in making HIGH TENSION+5 again available to the public. Recognition for linemen and understanding their legacy has been on the rise over the last several years. This publication will bring its readers in touch with what it was like for linemen to electrify the railroads in early days. Because of Bill Haines Jr's efforts, the legacy of his father William Wister Haines and linemen of those early days' lives on. Bill Jr. is quick to credit the editor of Powerlineman Magazine, Byron Dunn, for his ongoing encouragement and support for the reintroduction of SLIM. Powelineman.com will be carrying HIGH TENSION. When I consulted with Byron about this article he immediately gave full support and encouragement. My appreciation to Bryon as well.

Click here to order your copy of HIGH TENSION today!