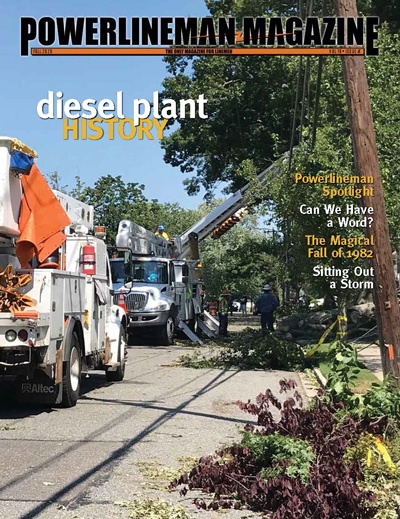 Welcome to your Fall 2020 edition of PowerLineman Magazine
Inside this issue:
Diesel Plant History
By: Byron Dunn
Could We Have a Word
By: Terry Bellew
The Magical Fall of 1981
By: David Spooner
Sitting Out a Storm | Safety Article
By: Robert Padgett
Plus more!
Access your Spring 2020 Powerlineman Magazine here.
---
Not a Subscriber or has your subscription expired??? Don't miss an edition!
Subscribe Today!
Help us keep your magazine coming! Annual U.S. subscriptions are only $12.00/annually (4 editions per year). Subscriptions include BOTH Online & Print editions of the magazine. Also, with your paid subscription, you will enjoy access to all past editions of the magazine (digital format only).
SO what are you waiting for???
Subscribe to the PowerLineman Magazine Today!
(Click here to enter subscription portal)
Are you already a current subscriber receiving our print edition?
Connect your subscription to our digital version here. All you will need is a copy of the PowerLineman Magazine to get your subscriber code!
---
We Hope you enjoy this version of the PowerLineman Magazine. Please send ideas for future articles to This email address is being protected from spambots. You need JavaScript enabled to view it..
Thank you!